Family Chiropractic Care
One of the best things about chiropractic care is its ability to transcend age and help people of all walks of life live healthier lives-from the youngest member of your family to the oldest, our Mt Lebanon chiropractors are confident in their abilities to focus on your needs and wellness. Through addressing the dysfunction occurring in your nervous system, we're able to restore and rebalance the body – all without drugs or surgery.
Specific Techniques for All Practice Members
At Roots Chiropractic, we know that each practice member has individual needs and problems that need to be addressed and corrected, which is why we're happy to offer several different adjustment techniques, including:
Diversified -Individualized technique that allows us to use different tools to cater to the patient's specific needs, whether it's a toddler or a parent.
Gonstead – Known as the "golden standard" in chiropractic care, the Gonstead method is an extremely specific adjustment style that locates and corrects misalignments in the spine.
Thompson Technique – A gentle technique involving the use of a moveable "drop" table. This is an ideal method for older patients or those who are in a lot of pain to start.
Flexion Distraction – A very low-force technique that allows us to relax the spine and helps your discs reabsorb.
Webster Technique – A gentle and specific chiropractic sacral analysis and diversified adjustment commonly used during pregnancy.
Many of our patients have experienced improvements including better sleep, higher energy levels, increased athletic performance, reduced headaches, back and neck pain relief, digestive improvements, heightened immunity and much more as a result of specific chiropractic care!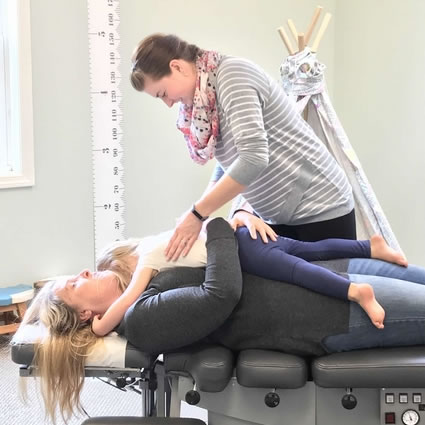 Care for Pregnancy and Children
Dr. Shadley is committed to providing safe chiropractic care for children and pregnant women at Roots Chiropractic. Dr. Shadley is certified in the Webster Technique by the International Chiropractic Pediatric Association.
In children, chiropractic care can make a world of difference-reducing interference in the nervous system can address issues from constipation to colic and ear infections. We have tables with an open supported abdominal section so that you can be adjusted comfortably. We also incorporate the use of pregnancy pillows, which allow you to lay on your belly to better aid in your relaxation.
Many people find that seeking chiropractic care during pregnancy can lead to an easier birth, decreased labor times, and lowered rates of cesarean section, as well as less pelvic, hip, and back pain.

Chiropractic Care | (412) 502-2297