Why the name "Roots"?
When we decided to start our own practice, our first thought was about what we would name it. Clearly, this was the fun part, and we didn't want to focus on the rest of the tough road ahead of us at that moment. It needed to be something that stood out, sounded youthful and fresh, while also having special meaning to us as husband and wife. After many months of deliberation, we narrowed it down to a few names, but none of them really made us truly excited.
We're not even entirely sure where "Roots" came from, it just popped into my head one day and I mulled it over for a while before mentioning it to Dr. Tom. When I told him the name, he instantly liked it. We played with the name for a while, referring to our practice as Roots to see how we liked the sound of it, and sure enough, we were hooked.
Now, what's the meaning behind it?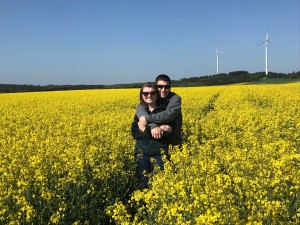 There are two reasons we chose the name Roots Chiropractic. One, we are chiropractors. We care about your nervous system, and our goal is to get to the root cause of the problem as opposed to covering it up with a band-aid of sorts. So, there you go, ROOT cause. Roots Chiropractic.
The second reason that makes it special to us is that we decided as a couple to set our family roots in Pittsburgh. If you know me at all, you know this is no small feat. I've moved all over my whole life, and I loved it. To be honest, the idea of staying in one place is terrifying, but we decided Pittsburgh was a cool enough city to settle down in. Dr. Tom only ever lived in Michigan (then Iowa for Palmer College of Chiropractic), so this was a tremendous change for him, too. It's a big commitment to start a small business, especially someplace new that neither of you are that familiar with.
Where We Are Now
It's been just over two years that we've been here, and we've grown to enjoy the people and the city of Pittsburgh. Our own little family will be expanding soon, and Dr. Tom is hoping they'll be born on 4/12 so that they can have a 412 birthday, making them the ultimate Pittsburgher. Now you have a bit more of an understanding of how our name came to be, and hopefully, you think it's a great as we do!
To learn more about us, check out our About Us page!